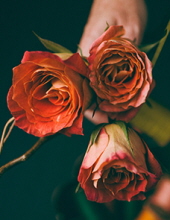 Obituary for Margie Erline Sharp
Margie Erline Sharp


Margie Erline Hopper Sharp, 86, of Hopeful died Monday, April 17, 2017 at Pelham Parkway Nursing Home.

Funeral services will be 4:00 p.m. Thursday, April 20 at Pelham Parkway Nursing Home Day Room with interment in Hopeful Baptist Church Cemetery. Rev. Herman Hampton will officiate.

Born March 26, 1931 in Colquitt County, GA, Mrs. Sharp was a member of Hopeful Baptist Church. She was a retired nurse.

Survivors include her husband, Bobby Lynwood Sharp of Hopeful; son, Lynwood Sharp of Sale City (Deborah Taylor of Albany); daughter, Brenda Sharp Lorenz (Dave) of Acworth; sister, Esther Everette of Doerun; three grandchildren, Bobby Sharp (Shannon), Heather Miller (Andre Brown), Lindsey Adkins (D.J.); six great grandchildren, Hali Ornelas, Ricky Ornelas, Gabriel Ornelas, Hunter Ornelas, Kylie Sharp, Khloe Sharp.

Visitation will be from 6 – 8 p.m. Wednesday, April 19 at Parker-Bramlett Funeral Home in Camilla.

Parker-Bramlett Funeral Home is in charge of arrangements.