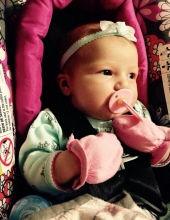 Obituary for Mia Naomi Erickson
Mia Naomi Erickson


Mia Naomi Erickson died Thursday, June 1, 2017 at Medical Center of Navicent Health in Macon.

Graveside funeral services will be 11:00 am, Monday, June 5, 2017 at Mt. Enon
Cemetery.

Born May 8, 2017 in Albany, GA, she was the daughter of Shane Erickson and Nicole Phillips. She was preceded by death by her great grand parents, Larry Phillips, Nancy & Edwin Hicks, Lisa Stegmiller, and Erik Erickson.

Survivors include her parents, Shane Erickson and Nicole Phillips of Albany; maternal grandparents, Tony Hicks and Rebecca Phillips; paternal grandparents, Zabel and Erika Lopez; maternal great grandmother, Hazel Phillips; paternal great grandmother, Tonya Erickson; paternal great great grandmother, Peggy Nason.