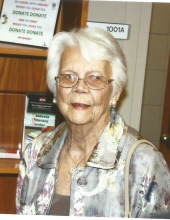 Obituary for Ruby Rigsby Sullivan
Ruby Pearl Rigsby Sullivan, 103, of Camilla, died Wednesday, August 30, 2017 at her home.

Visitation will be 2:00 p.m. with funeral services to follow at 3:00 p.m., Sunday, September 3, 2017 at First Baptist Church in Camilla with Rev. Joe Beauchamp officiating. Paul Goodrich, family friend from Boston, MA, will deliver the eulogy. The music will be provided by Jimmy Thomas and Becky Yager.

Serving as pallbearers will be Brad Mitchell, Mike Broome, Harry Rigsby, Jimmy Rigsby, Walter Cranford, Spence Cranford and Palmer Cranford.

Mrs. Sullivan was born April 24th , 1914, the seventh child of Rev. James Taylor Rigsby and Alice Burnett Rigsby. She attended and graduated from Sale City High School. Just after the Great Depression, at age seventeen, she approached a local banker and secured a loan to attend Georgia State College For Women (which became Valdosta State University) to pursue her dream of becoming a teacher. After securing a Normal diploma there, she attended Georgia State College for Women in Milledgeville and earned a bachelor's degree in Education. She furthered her education in library sciences at Florida State University and Eastern Kentucky University.

Through sixty-seven years of teaching, Mrs. Sullivan used her degrees in various ways to benefit students – as a classroom teacher in Jacksonville and Chattahoochee, (FL), and Decatur and Mitchell counties (GA), librarian at DeSota Trail Regional Library, Library CoOrdinator for the Mitchell County School System, Hospital/Homebound teacher, and GED teacher. She was an active member and officer of the Georgia Library Association,
2nd district, and was a member of the Southeastern Library Association and the Georgia Association of Educators.

As a memorial to her son, John Douglas Sullivan, and to support future teachers in rural areas, Mrs. Sullivan established the John and Ruby Sullivan Scholarship at Valdosta State University. The scholarship provides an annual stipend for high school students chosen from those accepted into the VSU teaching program from the five poorest counties in Ga. Upon graduation, if these decide to teach in one of those five counties, the stipend is continued for a period of up to four years. Mrs. Sullivan wanted to offer this assistance so that students could follow their dream to teach without having to take on substantial debt as she had; and to encourage these students to return and teach/serve in the communities so in need of great, dedicated teachers.

Additionally, Mrs. Sullivan funded the Ruby Sullivan Learning Center at Valdosta State. At the Center children with learning disabilities receive additional assistance by VSU students, faculty and administrators. As an educator and librarian, Mrs. Sullivan felt that everyone should have the gift of reading.

Through the years, Mrs. Ruby was a faithful member of the First Baptist Church of Camilla although she kept a special place in her heart for Pebble City Baptist Church and Delwood Baptist Church which she attended as a child while her daddy was pastor at each church. She was also an active member and officer of the Camilla Pilot Club. She loved growing flowers, especially daylilies, camellias, azaleas, and amaryllis and raising cats.

Many people have come to know Mrs. Ruby through her work and through the work of her son, John, who worked on the first Carter Presidential Campaign and two of Boston's Mayor Tom Menino's campaigns. On her 100th birthday, she received birthday wishes from both former President Jimmy Carter and former Mayor Menino.

Survivors include a multitude of nieces and nephews, great-nieces and great-nephews, great-great-nieces and great-great-nephews, and great-great-great nieces and great-great-great nephews. She was preceded in death by her parents, Rev. J.T. and Alice Burnett Rigsby; her husband, John N. Sullivan; and her beloved son, John Douglas Sullivan. The family would like to thank Brad and Martha Mitchell, Debbie Luckey, Missy Sharpe, Meghan Green, Mike and Adayna Broome, and S.T. Johnson for their care and devotion to Aunt Ruby. Also thanks to the neighbors, fellow church members, daylily club friends, former students and others who visited, brought food, and loved Aunt Ruby throughout the years.

In lieu of flowers, donations may be made to the Mitchell-Baker Service Center, 65 Industrial Blvd, Camilla, GA 31730.
Previous Events
Visitation
First Baptist Church of Camilla
27 E. Broad Street
Camilla, Ga 31730
Service
First Baptist Church of Camilla
27 E. Broad Street
Camilla, Ga 31730