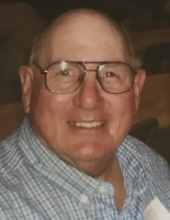 Obituary for George William "G.W." Faircloth, Sr.
George William "G. W." Faircloth, Sr., 83, of Greenough, passed on Saturday, July 13, 2019 at his home surrounded by his family. Mr. Faircloth resided in Greenough.

Funeral services will be 11:00 a.m. Tuesday, July 16 at Baconton United Methodist Church with interment in Faircloth Cemetery. Rev. Ernie Rogers will officiate.

Born August 20, 1935 in Baconton, Mr. Faircloth was the son of the late Watson Faircloth and Edna Layfield Faircloth. He was also preceded in death by his wife of 58 years, Gwendolyn Rose Beard Faircloth; a son, James "Jim" Faircloth; and brothers, Ralph Faircloth and Bobby Faircloth. Mr. Faircloth was a devoted member of Baconton United Methodist Church where he sang in the choir. He spent most of his weekends traveling the South Georgia area singing at nursing homes and spreading the gospel. He was local businessman as a well driller and well repairman. He also was the store owner of Greenough Grocery for many years. Mr. Faircloth served his country in the Navy where he was released with honorable discharge in 1962. For years he was a faithful member of American Legion Post 141 and served as a member of the Gideon's Group and the Wesley Glen Organization.

Survivors include his children, Charlotte Layton (Danny) of Greenough, George W. Faircloth, Jr. (Penny) of Lakeland, Joseph W. Faircloth (Gena) of Greenough, Sherry Gregory (Larry) of Ringgold, and Tammy Harrell (Ken) of Greenough; daughter-in-law, Lisa Faircloth of Greenough; brother, Tony Faircloth (Janice) of Baconton; sisters, Dale Hasty (Larry) of Baconton and Doris Beck of Milledgeville; 14 grandchildren and 18 great grandchildren; and devoted caregiver, Ms. Bertha Mae Simmons.

Visitation will be from 4 – 7 p.m. Monday, July 15 at the family residence, 3592 Tuton Rd, Baconton, GA.

Memorials may be made to Baconton United Methodist Church, P.O. Box 115, Baconton, GA 31716.

Parker-Bramlett Funeral Home is in charge of arrangements.
Previous Events
Visitation
Faircloth Residence
3592 Tuton Road
Baconton, Georgia 31716
Service
Baconton United Methodist Church
201 E. Walton Street
Baconton, Georgia 31716