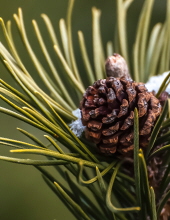 Obituary for James Franklin Powell
James Franklin Powell, 85, died Wednesday, November 14, 2018, at Pelham Parkway Nursing Home. Graveside services will be held at Pelham City Cemetery on Saturday, November 17, 2018, at 2:00 P. M.

Rev. David Pickering and Rev. Kathy Israel-McLeod will officiate. Following the service the family will greet friends at the cemetery.

The fourth of five sons of Melvin Wheatley Powell and Catherine Lay Powell, he was born November 2, 1933, in Thomasville, Georgia. After graduating from Pelham High School in 1950, he attended Emory at Valdosta and Emory University in Atlanta.

A gentle, retiring person, he was a talented artist, loved nature, enjoyed reading, and was devoted to his family.

He is survived by nieces Annice Jeanne Blankenship (Grady) of Valdosta, and Deborah Kathryne Friedlander (Clint) of Moultrie, and nephew Robert Elwood Powell, Jr., (Sherry) of West Columbia, South Carolina. Miriam Flynt Powell of Pelham is his sister-in-law.

He was preceded in death by his parents Wheatley Powell and Catherine Lay Powell and his brothers Melvin Wheatley Powell, Winton Lay Powell, Robert Elwood Powell, and Lawrence Edward Powell.

Parker-Bramlett Funeral Home is in charge of arrangements.