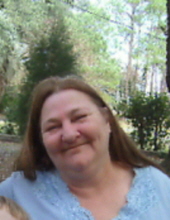 Obituary for Pamela Martin Hodges
Pamela Martin Hodges, 59, of Mitchell County, passed away Wednesday, July 11, 2018 at Phoebe Putney Memorial Hospital with her family by her side.

A graveside service will be held Saturday, July 21 at 10 a.m. at Moak's Creek Cemetery in her hometown of Bogue Chitto, MS.

Born August 21, 1958 in Gretna, LA, "Pam" was the daughter of the late Louie Jean Martin. She was preceded in death by her son, Daniel Lee Gill. She was a homemaker and member of Lake Pleasant Baptist Church.

Survivors include her mother, Georgia Wallace Jones; two sisters, Patricia Wilson and Sherry Allen; two daughters Meleisa Greene and Danielle Brown (Patrick); grandchildren, Korey Bennett, Victoria Greene, Sarah Greene, Devin Scarberry, Cynthia Greene, Brendan Scarberry, Valerie Brown, and Tiffany Brown; great-grandchild, Katarina Lowery; four nieces and nephews.

In lieu of flowers, please donate to your local library to honor her love of reading, music and sharing stories.

Parker-Bramlett Funeral Home is in charge of arrangements.
To sign the online guest registry, visit our website at www.parkerbramlett.com.