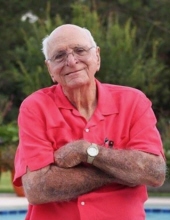 Obituary for Ray Martin Hays
Ray Martin Hays was born in Hopeful, GA on August 15, 1935 and passed away at his home in Camilla, GA on February 19, 2019. He was a member of First Baptist Church of Camilla, GA. He is preceded in death by his wife of 41 years, Kay Gray Hays, his parents, Loyd and Rosa Hays and his brother, Lavon Hays.

Visitation will be Wednesday evening, February 20, 2019, at Stewart Poultry, 3525 Old Pelham Road, Camilla, GA from 5:30 to 7:30 p.m. A celebration of his life will be held at First Baptist Church on Thursday, February 21, 2019 at 3:00 p.m. with interment at Oakview Cemetery immediately following.

Ray served in the Army and was stationed in Ft. Monmouth, NJ. He was an Encryptionist and taught Electronics. He also served in the National Guard as a medic. Ray was a Boy Scout Leader for many years and enjoyed giving many young boys an adventurous Boy Scout experience. As a career, his life was devoted to the Agriculture Industry. It was an Industry that he loved and found great pleasure serving. In the early 70's he began his own business where he manufactured fertilizer hauling equipment. He was an innovator and worked to find solutions to meet his customer's needs. His "CAN-DO" attitude awarded him much success and enabled him to enjoy things like becoming a pilot, being a pioneer in chemigation and fertigation and any other adventure he set his mind to. In later years he passed the company on to his children, but he never stepped away. He relentlessly traveled the United States as an ambassador of the Company. He enjoyed working every Trade Show and shaking hands with new and old customers. He traveled farther and worked harder than any other employee of the Company. The heart and success of the business he founded is family, friendship, relationship, gratitude and generosity. He sincerely enjoyed expressing gratitude to his friends and customers throughout the United States, giving out kindness, a fun story, a strong handshake and pecan pies. He was a member of Ag Associations all over the United States. In 2014, the AG Industry through the Georgia Plant Food Education Society honored him with the prestigious Blair W. Davis Outstanding Service Award that represents the heart of being a dedicated servant, one that gives 110%. He gave 110% in every single thing he ever did. He always wore a smile, and had the gift of making everyone feel loved, respected and valued.

Ray is survived by his wife, Janice Stewart Thomas Hays, daughter, Donnas H. Stewart and husband Jimmy, son, Ronald L. Hays and wife Carrol, daughter, Lynn H. Pinson and husband Tim, daughter, Shari H. Cranford and husband Doyle, son, Allen Thomas and wife Stacy and son, Stuart Thomas and wife Beth.

His pride and joy were his grandchildren Kiley Henderson, Lindsey Allen, Laura Pinson, Jordan Cranford, Tyler Pinson, Matthew Hays, Brock Pinson, Hannah Hays, Gracie Cranford, Tucker Thomas, Hudson Thomas, Beulabelle Thomas, Taylor Thomas, Turner Thomas, Riley Thomas, Samantha Briggs, Jordan Briggs, and Audrey Briggs. The treasures of his heart were his great grandchildren Cole Henderson, Hayden Allen, Hutson Allen and Hadley Allen.

Pallbearers are Bobby Bostick, Keith Lodge, Scottie Morrell, Chip Smithwick, Hamil McNair, Dusty Shiver, Tim Sanders, Greg Dennis and Willie Butler. Honorary Pallbearers are all of The Employees of Hays-LTI and Ray's special friends who were members of The Coffee Club or what they often referred to as "School".

Honoring Ray's heart for the Ag Industry, memorials may be made to GPFEF (Georgia Plant Food Educational Foundation), 1017 Pearson Road, Sylvester, GA 31791 to support Ag Scholorships. Also, Ray had a real love for Hopeful, GA where he was born and raised. Camp Tucker located in Hopeful, GA was special to him. Memorials may be made to Camp Tucker, c/o Tucker Baptist Association, P. O. Box 442, Camilla, GA 31730.

Parker-Bramlett Funeral Home is in charge of arrangements.