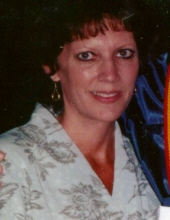 Obituary for Kathleen "Kathi" Morrell
Kathleen "Kathi" Shiver Morrell, 63, of Pelham died Saturday, May 26, 2018 at Pelham Parkway Nursing Home.

Graveside services will be 11:00 a.m., Wednesday, May 30, 2018 at Oakview Cemetery in Camilla.

Born September 13, 1954 in Mitchell Co., Mrs. Morrell was the daughter of the late Jesse Claude and Aline Melton Shiver. She previously worked for Southern Bell and was a member of Southside Baptist Church.

Survivors in include two sons, Adrian Morrell (Jenny) of Pelham and Lucas Morrell (Stephanie) of Pelham; two brothers, Carl Shiver (Terry) of Camilla and Bernie Shiver (Carol) of Camilla; two grandchildren Robin and Allison.

Memorials may be made to National Multiple Sclerosis Society (Georgia Chapter), 455 Abernathy Rd Suite #210, Atlanta, GA 30328.

Parker-Bramlett Funeral Home is in charge of arrangements.